Personal Trainer Certification Exam Materials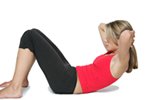 We are building the largest library of personal trainer certification exam materials. And now you can access this library of over 500 practice exam questions by taking our Online Certification Prep Course!
Don't throw away your exam prep tools! We will buy them from you. Or if you appreciate our site, consider donating your exam materials.
So, What's the Deal?
You can earn between $5 and $15 by sending us any tools you developed to help you prepare for a personal trainer certification exam. We evaluate all materials on a case by case basis. Occasionally we pay more than $15 or less than $5 depending on the quality of the materials. We will use these exam prep materials to help future personal trainers. The personal trainer certification exam materials must be:
Your own work. No copyright materials.
In electronic format. You must be able to email it. We do accept scanned copies of notes, however we don't enjoy re-typing so we tend to pay less for these.
Correct. Materials with errors will not be accepted.
Your exam materials can be for any personal trainer certification as long as they are good.

How Do I get Paid?

Submit your information in the form below. We will email you instructions on how to upload your file. We do not publish the upload email address on the web to avoid spam.

You just need to reply to the email we send you with your materials attached. We will review the materials within 72 hours (in most cases) and reply with an offer. You can either accept the offer and get paid or reject the offer. If you reject the offer, we will delete your materials from our database. We do not return materials (because you sent us a copy, not the original).

Submit your personal trainer certification exam materials by filling out the form below. We do not share your name or email address with anyone.

Terms and Conditions:

All submitted materials are your own work. Submitting materials is not an agreement to purchase or sell. You may reject the purchase offer made by us after submitting materials. If you accept the offer of purchase, you agree to receive payment via Paypal. If you accept the purchase offer or donate materials, you agree to transfer copyright of the submitted materials to starting-a-personal-training-business.com.

Next Page: Shadowing a Personal Trainer

Navigation Guide: Home Page / personal trainer certification exam materials