Personal Training Business Plan
Note: A newer version of our Personal Trainer Business Plan is available here.
Writing a personal training business plan can be easy. But chances are you have never written one before. That's why we have created a sample personal training business plan template that you can modify.


If you search Google using the toolbar above, you will find a lot of companies that are willing to sell you business plans for anywhere from $99 for a generic template to $3000 for a professionally done custom business plan. I checked out a few of the cheaper ones and found the quality was bad. So when I started my own personal training business I decided to write my own.
Note: I used to accept donations of 'any size' but I started to get donations of $0.01 which after the fees paypal charges left me with nothing. People like this take the fun out of everything. So I had to settle on an amount and $15 seemed fair. You should figure that writing a personal training business plan will take at least 15 hours if you do it on your own. Most people agree that $15 is a small price to pay for saving 10 hours of tedious work.
Why do I need a personal training business plan?

Chances are at some point you are going to need somebody's help when starting your business. It might a banker to lend you money, a doctor to send you referrals, or a landlord to lease you a facility. Having a professional looking personal training business plan will open doors for your business to expand and grow.

If you are going to write you own personal training business plan, take a look at the table of contents from the template. Make sure that you touch on these topics:




Table of Contents



1.0 Executive Summary

2.0 Market Analysis


Target Market
Market Growth
SWOT Analysis
Competition
Services Provided
Success Factors

3.0 Marketing Strategy
Mission Statement
Marketing Goals
Positioning
Communication
Pricing
Market Research

4.0 Finance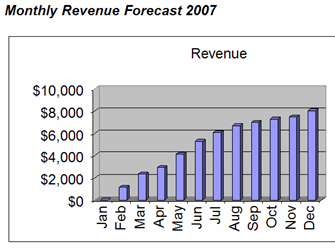 Break-Even Prediction
Monthly Revenue Forecast 2007
Expense Forecast


5.0 Implementation





Writing a personal training business plan is hard work. You can save yourself hours of frustrations by making a $15 donation and downloading our template that is designed specifically for personal training businesses.



Note: A newer version of our Personal Trainer Business Plan is available here.




Next Page: Develop Your Budget

Navigation Guide: Home Page / Step 4 Index / Personal Training Business Plan