Personal Trainer Certification Course
We searched the Internet for tools that would help prepare you for the personal training tests. But the products we reviewed were all disappointing.
So we decided to build our own Online Exam Prep Course!
If you are preparing to take a personal trainer certification exam, then you are going to want to take our online review course. Our goal was to deliver Twice the Content at Half the Price!
Here is What You Get
Over 500 Practice Questions including Practical Questions, Video Questions and Case Studies


Detailed Explanations for questions to help you understand the correct answer


Over 20 quizzes and a Final Exam you take online to Measure your Progress


Covers all Major Certification Exams including ACE, ACSM, AFAA, ISSA, NASM, NCSF, NFPT, NSCA, NPTI, Nesta, WITS, and many others


Detailed 8-day online study planner to help you organize your studying including more than 15 hours of review


100% Online Resource, you will receive an email with links to all the Exam Quizzes


All of this for only $24.95. That is less than half the cost of any other product.


Exam Topics Covered
We cover all the areas of the major certification exams and give you lots of practice questions. With so many questions, there is a much higher chance of seeing familiar questions on your certification exam.
| Topic | Questions |
| --- | --- |
| Anatomy, Physiology, Kinesiology and Biomechanics | 167 |
| Client Assessment | 49 |
| Program Design | 53 |
| Exercise Technique | 80 |
| Safety, Legal and Business Issues | 63 |
| Nutrition | 54 |
| Training Special Populations (Children, Seniors, Obese, Injured Persons) | 40 |
| TOTAL PRACTICE QUESTIONS | 506 |
You get our Cert Prep Course for only $24.95. Pay securely with your credit card

ORDER the EXAM PREP COURSE
* IMPORTANT: Most orders are processed within two hours, however please allow up to one business day to receive your course materials via email.
Still Not Sure?
Take our five question Sample Personal Training Test. And with over 500 practice questions in our online exam prep course, chances are you are going to see dozens of familiar questions on your certification exam.
Screenshots
1) We don't just tell you that you got the question wrong, we tell you *WHY* you got the question wrong.

2) Each quiz has a table of contents that gives you instant feedback on your results. You can quickly navigate to review questions you got incorrect.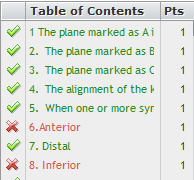 3) Determine your readiness for the exam with our instant feedback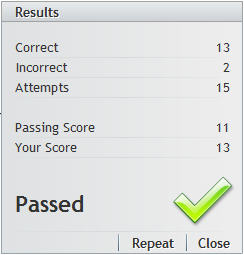 4) Our 8 Day Study Planner will guide you through all of the topics on the certification exams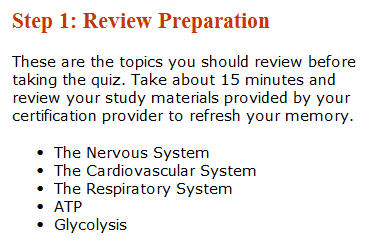 *Terms and Conditions - We are not a certification provider and do not provide personal training certification. The exam course in an independent course and not affiliated or approved by any certification provider. You should take our review course in conjunction with another certification course. If you use our review course along with the study materials provided by your certification provider, you will have a much greater success rate on the exam. This is a 100% online course. No refunds will be given once the course materials and passwords have been transmitted via email.
Navigation Guide: Home Page / Personal Trainer Certification Course