"Hi, I'm Katie. I created this web site so trainers can share their experiences. Each page allows you to learn from other trainers and ask questions and share your ideas too!" (about me)



Starting a Personal
Training Business
A Free Guide for Personal Trainers!
If you want to become a personal trainer or start your own personal training business, this Step by Step Guide will help you reach your goal. Learn from other personal trainers who have already started their own successful companies.

Step 1 - Should I Become a Personal Trainer?
In Step 1 of our guide we will determine if this is the right training program for you. This is where you will get answers to the following questions::
Do you have what it takes to become a personal trainer?
Can you handle the irregular hours of a personal trainer?
Do you want to work as a contractor or as an employee at a health club?
Are you interested in starting your own personal training business?
How much money can you make as a personal trainer?
How much money will it cost to become a personal trainer?
Can you handle the stressful responsibilities of becoming a personal trainer?
Being able to ask yourself these questions and provide honest answers will determine if you have chosen the right career path. Honest answers will give you confidence.
Your Result: Confidence in your new career decision.



Step 2 - Navigate the Certification Maze

You are the most important asset that your company has. So it makes sense to get the right kind of training and certification. But how do you know which certification and training programs are the best? The following tips can help you find the right certification for you:
Compare the major certifications and niche industry players to find the best fit for you.
Compare education options including online course, weekend workshops and hands on certificate programs.
Get tips on how to prepare for all of the certification exams.
Take practice exams and Pass the Test on your first try with our Exam Prep Course.
Your Result: You are now a Certified Personal Trainer.

Step 3 - Gaining Confidence and Getting the Job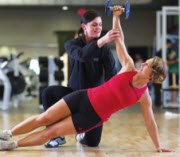 During this step, you will become more confident as a personal trainer and learn all about starting a personal training business.
Utilize our training videos and learn how to create your own exercise routine.
Practice your expertise on your friends and relatives.
Shadow experienced personal trainers on the job.
Get Free help from our Personal Trainer Support Group.
Polish up your resume and job interview skills.
Browse our listings of personal training jobs on our job board.
Your Result: You are a Working Personal Trainer.



Step 4 - Start Your Own Personal Training Business

Working for your self can be rewarding and scary at the same time. There are days you will just love and days you will want to forget.
We guide you through the steps to start your own business including:


Develop your Marketing Strategy and Financial Business Plan.
Determine your Budget and Forecast your Cash Flow.
Will you train at a gym, outdoors, online or at home? Learn how to combine these strategies for your business.
Navigate all the complex legal and tax requirements of owning your own business.
Get a good deal on liability insurance.
Automate your business with the latest technology.
Your Result: Your Successful Business Launches!



Step 5 - Beating the Competition and Growing your Business
Personal training is competitive. In order to remain in business and also become profitable, you have to outsmart your competitors and use your time efficiently. You can't afford to spend a day trying to figure out your taxes while you should be using that time for getting more clients.
The best personal trainers have learned how to grow their business by consistently exceeding their client's expectations and delivering quality services. They follow a communication plan with each client that increases client satisfaction and creates new referral business.
I recognized that personal trainers need better tools manage and communicate with clients. So we created the Complete Training System to automate every facet of the client/trainer experience. And it makes you look ultra professional at the same time.
It includes client assessment, medical, health and lifestyle screenings and automates the collection and storage of all your critical paperwork while reducing risk for you.
It automates the process of designing resistance, cardio, and flexibility programs for your clients.
It allows personal trainers to provide safe and risk-free nutritional guidance, meal planning, and calorie tracking for their clients.
And it's a personalized web portal for every one of your clients, making it easy for them to track their progress, communicate with you, and book their next training session with you.
And a whole lot more features you can Try for Free!

The Complete Training System gives you the opportunity to add more services, so that you can make more money. You can enable calorie and nutrition tracking and train clients online. As well as making it easier for clients to schedule appointments and pay for your services.
Your Result: More Value for your Clients, Less Work for You

Not Sure Where to Start?
Take our three minute Video Tour or start at Step 1. You can also view the entire program in our site map.
by Katie Donnelly