"With all the personal training certifications on the market, you should weigh carefully the user reviews on our site to make sure you pick the best one for you." (

about me

)



Personal Trainer Certification
As the personal training industry has grown over the last decade, countless new certification options have popped up.
You can even become a personal trainer and get certified for free!
Changing careers is a big decision. And choosing the right personal trainer certification is the biggest decision you will make in your new career.
Welcome to Step 2 of Starting a Personal Training Business! If you still aren't sure if you want to become a personal trainer. review Step 1 to determine if personal training is a good career for you.
Step2 is all about your personal training certification options. But first, we need to determine if...
Are you a Book Learner or Hands On Learner?
We start off by discussing the role of education. Many people rush directly to getting certified without considering how they are going to learn the information. All the personal training certifications offer self study options which usually consists for reading a textbook and watching videos before taking an exam. This is often effective for people who are very self motivated and are comfortable learning from books.

Unfortunately, most of us are not really great with reading hundreds of pages from a textbook that will sometimes seem like a medical journal. We need a more practical education.

Fortunately, there are many education options available to prepare you for the CPT (certified personal trainer) exams.

Your options include:
4 year College degrees
2 year Associates degrees
Short Certificate Courses (usually 2-4 months)
Weekend Workshops
Obviously, you will get very different results from each of these options. You can explore these options in the first part of Step 2 using the links below:
Personal Training Degrees
Personal Trainer Schools
Online Certification Courses
Is Online Certification Right for You?
How Do I Choose a Personal Trainer Certification?
With so many certification options available, you need to rely on accreditation and user reviews to make an informed decision.

We start by exploring the Myths of NCCA Accreditation. It is important to understand what personal trainer accreditation really means and which accreditation organizations are real.

From there we go on SCAM ALERT! to make sure you don't get ripped off by the many official sounding organizations that will sell you little more than a piece of worthless paper.
Expert Reviews of Major Personal Training Certifications
In this section we review each personal training certification in detail including cost, length, industry recognition, accreditation, exam difficulty, and recertification requirements.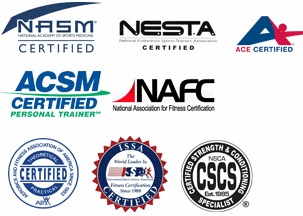 Going with one of the major certifications is a wise choice. But that still leaves you with a lot of choices. So start here first:
Major CPT Certifications
ACE Personal Trainer Certification
ACE Certification Exam Tips
ACTION Certification Review
ACTION Certification Exam
ACSM Personal Trainer Certification
ACSM Certification Exam Tips
NSCA Personal Trainer Certification
NSCA Vital Statistics
NSCA Certification Exam Tips
NASM Personal Trainer Certification
NASM Certification Exam Tips

But there are many other solid choices for certification. These ones don't quite have the same amount of traction as the big five do, but still might be a good fit for you.
AFAA Personal Trainer Certification
NPTI Personal Trainer Certification Review
NPTI Vital Statistics
NCSF Certification Review
NCSF Exam and Vital Statistics
NESTA Personal Trainer Certification
ISSA Personal Trainer Certification
ISSA Vital Statistics
CanFitPro Personal Trainer Certification
CanFitPro Vital Statistics
NFPT Certification Review
IFPA Certification Review
Cooper Certification Review
Comparing Certifications
With so many CPT options, we break them down into easy comparison tables.

Certification Program Comparison Tables
Full Certification Comparison Table
NCCA Accredited Programs only
Non-NCCA Accredited only
Online Certification Programs only

And there is the never-ending battle over which one is the best CPT certification. Our readers are never shy about their opinions:

Reader Recommendations: Best Certifications


Preparing for the Exam
Once you have selected your personal training certification, you are going to be focused on passing the exam. These pages will help measure your readiness.

You can start with our free 30 questions sample exam:


Free Personal Training Practice Certification Exam
Client Assessment
Exercise Technique
Client Program Design
Nutrition
Miscellaneous
Practical Analysis
Answer Page


When it is time to really study, you will want to check out our 750+ question exam prep course. It covers all the topics covered on the exam with specific information for all the major certification exams.

It will make sure you pass the exam on your first try, which will save you hundreds of dollars in exam retest fees.


Take our Certification Exam Prep Course
Cert Exam Prep Course
Take a Sample Personal Training Test




Form a Study Group
We hold regular study group sessions using Google Hangouts. They are free and easy to join. Just use your Google+ account.

You can find our Google+ page here.

Make sure you follow us and join the circle for the exam you are preparing for. That way you can learn about the next study group hangout and stay in touch with people who are preparing for the same personal trainer certification exam.

by Katie Donnelly
Ask Questions about Personal Trainer Certification
Tell us what you think about getting certified or ask a question.
Personal Trainer Certification Discussion
Our readers discuss the process of getting certified and becoming a personal trainer.