Personal Training Certification Practice Test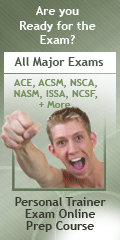 The Answers!
You have completed our personal training certification practice test. Now lets see how you did.
Note: If you found us through a search engine, you may not have started the personal training certification practice test from the beginning. You may want to go to the first page and make sure you have answered all the questions before looking at the answers.
And if you want another 750 questions including video questions, practical analysis and case studies... Take our Certification Exam Review Course. At $32.95 it is an unbeatable value and a great way to avoid costly exam resting fees.

Personal Training Certification Practice Test
1. B - Informed Consent
2. False
3. A - Cardiorespiratory Fitness, Body Composition, Flexibility, Strength, Anaerobic Fitness
4. C - % Body Fat, Height/Weight Norms, Waist Circumference
5. A - Weight in Pounds / (Height in Inches * Height in Inches) x 703
6. D - Perform exercises in such a way to exhaust the agonist and also exhaust the antagonist
7. B - Exhale during the concentric phase of each movement
8. D - 1 Repetition Maximum
9. A - Your muscles must be challenged in order for adaptation to occur
10. B - Posture
11. C - Medical Screening,Exercise/Nutrition Assessment, Goal Setting, Exercise/Nutrition Plan, Starting Program, Educating Client, Motivation, Feedback
12. B - Help your client focus on where they want their workout program to take them
13. D - Prevent Injuries, Improve Coordination
14. A - Calculating Target Heart Rate
15. B - Walk, Run Jog, Swim, Cycle
16. D - Carbohydrate, Protein, Fat, Vitamins, Minerals, Water
17. B - 9
18. B - Large organic compounds made of amino acids arranged in a linear chain and joined by peptide bonds
19. C - Saturated, Monounsaturated, Polyunsaturated
20. B - Grains, Vegetables, Fruit, Milk, Meat
21. A - Absolute and Dynamic
22. D - 75% water and 25% protein
23. D - Horizontal Shoulder Adduction
24. C - Elbow Extension
25. C - Low reps, high weight
Practical Analysis (scenario questions)
26. D - 130-141
27. A - 25.1
28. C - Circuit Training
29. E - Stop Smoking and Reduce Alcohol Consumption
30. A - 7oz Grains, 3 cup Vegetables, 2 cup Fruit, 3 cup Milk, 6 oz Meat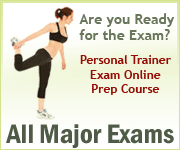 We would love to hear your feedback on our personal training certification practice test. I believe that it is the only FREE personal training test on the Internet.
If this test helped you, please consider helping other trainers by submitting your own exam questions and answers and Supporting our Site. It won't cost you any money!
Next Page : Certification Exam Study Groups
Free Personal Training Practice Exam Index
Client Assessment
Exercise Technique
Client Program Design
Nutrition
Miscellaneous
Practical Analysis
Answer Page
Navigation Guide: Home Page / Step 2 Index / personal training certification practice test