ACE Personal Trainer Certification Test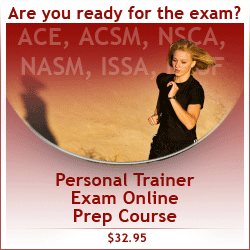 If you are interested in an ACE fitness certification you are going to need to pass the ACE exam. This is a very popular test and opinions fluctuate widely on it.
Some people think the ACE personal trainer certification test is easy. This is especially true for people with some background or experience in exercise science. People who are just starting out on the path to becoming a personal trainer find the ACE personal trainer exam a lot tougher. Find out what our readers have to say about the ACE personal trainer exam below.
So What Does ACE say about their exam?
ACE recommends that you spend three to six months preparing for the test. This is a good guideline for people with no exercise training experience. But more experienced trainers should be able to tackle the exam with just a few weeks of preparation. ACE also recommends attending a 2 day exam preparation workshop for $219 or a 4 part webinar for $199 or take their pre-recorded flash-based online course for $149. As you can see it starts to add up quickly.
Preparing for the ACE Personal Trainer Certification Test
You've got a choice of study materials. You can purchase the official ACE study program that includes manuals, flashcards, and a practice exam for between $149-$399. Unfortunately, you have to pay for the test on top of that.
We used to recommend the Morrison products but we received a lot of negative feedback about them. When we searched for better solutions, we just couldn't find anything we were comfortable recommending.
So instead, we built our own Certification Exam Review Course. With over 750 exam practice questions to help you prepare for ACE, we think you will like it. And at $32.95 we think it's an exceptional value.
Of course you can always take our free certification practice test. But we think you are going to want a lot more preparation to get through the ACE exam.
ACE Certification Sample Exam Questions
Here are a few sample questions that were submitted by our readers.
1. Which lever class is typical of most joints of the human body?

2. John is 54 years old and has a RHR of 75 BPM, and his goal is to exercise at 60% of HRR, what is his THR?
3. What is the prime mover in a shoulder extension?

4. What is the sliding filament theory?

5. What are the rotator cuff muscles?

6. What are the PRIMARY movement descriptors, and what plane of movement does each move in?

7. What is the job of the sternocleidomastoid?

8. What is the difference between an open-chain exercise and a closed-chain exercise?

9. What does the muscle spindle do?

10. How does direction of resistance relate to desired motion?


If you can answer all of these questions without having to look them up, then go right ahead and take the ACE personal trainer exam without studying. I used flashcards extensively to help memorize this kind of detail.
What did you think of the ACE Exam?
The section below gives our readers the chance to talk about their experience with the ACE personal trainer certification test. After you take your exam, remember to come back and tell us how you did and what worked for you!
ACE Exam Insider Tips
Our readers submit some great tips about passing the ACE personal trainer certification exam. Read the tips and add your comments and ratings to each tip.

---
Next Page: ACTION Certification Reviews
Navigation Guide: Home Page / Step 2 Index / ACE Personal Trainer Certification Test