ACSM Personal Trainer Exam
If you are interested in the ACSM fitness certification you are going to need to pass the ACSM exam. This is a very challenging test as you will see from our readers comments below. You need to have a strong knowledge of anatomy and nutrition. Find out what our readers have to say about the ACSM personal trainer exam.
ACSM Exam Requirements?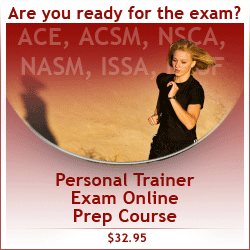 ACSM states that you need to be able to demonstrate competence in the key areas (KSA) listed in the Seventh edition of ACSM's Guidelines for Exercise Testing and Prescription. You also need adequate skill in risk factor and health status identification, fitness appraisal, and exercise prescription. In other words, be able to accurately prescribe a safe and effective fitness program for both healthy adults and special needs clients.
The ACSM personal trainer must also demonstrate ability to deliver innovative activities that will improve an individual's functional capacity as well as effectively communicate with individuals regarding lifestyle modification
Even people experienced in exercise sciences will want to take a few months to prepare for the ACSM personal trainer exam. With retests costing $150 you definitely want to pass on the first time. Taking our exam review course is a cost effective way to know when you are ready for the ACSM test. ACSM also recommends attending one of their workshops. There is a one day workshop for experienced trainers and a three day workshop for the rest of us.
Preparing for the ACSM Personal Trainer Certification Test
There are lots of study materials available from ACSM and from independent sources . The official ACSM materials are a bit pricey but you can also buy used study materials on ebay. We used to point people toward the Morrison study guides but we received a lot of negative feedback. That is what prompted us to develop our own exam study course with over 750 practice questions to help you pass the ACSM exam.
What did you think of the ACSM Exam?
The section below gives our readers the chance to talk about their experience with the ACSM personal trainer certification test. After you take your exam, remember to come back and tell us how you did and what worked for you!
ACSM Exam Insider Tips
Our readers submit some great tips about passing the ACSM personal trainer certification exam. Read the tips and add your comments and ratings to each tip.

---
Next Page: NSCA Certification Review
Navigation Guide: Home Page / Step 2 Index / ACSM Personal Trainer