"The NSCA certification allows you to work with special needs clients. Other programs offer add-on certifications only. If you know you want to work with special needs clients, this cert may get you there faster."

(

about me

)



Personal Trainer Certification NSCA
Personal trainer certification NSCA is one of the toughest certifications to get. The exam covers a whole range of topics from anatomy to nutrition. You can compare NSCA Certification against other Personal Trainer Certifications using our Certification comparison table. Also, check out what our readers are saying about the NSCA certification.
The NSCA personal trainer certification was the only program to be recognized by the National Commission for Certifying Agencies (NCCA) until the ACSM was also certified. Now many certifications have caught up with NSCA and by becoming accredited but it still shows that the NSCA is leading the charge toward cleaning up the personal trainer certification industry.
NSCA offers a Certified Strength and Conditioning Specialist (CSCS) cert which is a very comprehensive certification. You must have a bachelor's degree before you even start the program.
For the rest of us interested in personal trainer certification, NSCA established the NSCA-Certified Personal Trainer (NSCA-CPT) in 1993. While the program is not as in depth as the CSCS, the NSCA personal trainer certification is very widely recognized as a reputable certification.
What's so Special about the NSCA-CPT?
One of the biggest differences between other certs, the personal trainer certification from NSCA enables you to work with clients with special needs in addition to healthy clients. Special needs clients include the obese, elderly, people with eating disorders, pregnant women, orthopedic disorders, diabetics, post heart attack rehab, and many more.
If you are looking for a way to differentiate yourself from other trainers, the NSCA personal trainer certification may be the way. And by targeting your personal training business to one or more of these special needs niches is a great way to grow your business. Also keep in mind that rehabilitation patients are usually covered by medical insurance and the special requirements often translates into high training fees.
Now the hard part - Passing the exam
The personal trainer certification NSCA exam is only 140 questions but it is widely viewed as a very difficult test. 35 of the questions are based upon responses to a video presentation.
This is a serious certification.
Not something you will be able to earn after attending a 3 day workshop. In fact, if you look at the numbers, only 9,600 NSCA-CPTs exist in a program that's been around since 1993. It definitely attracts those who are serious about a personal training career.
So How do you Pass the NSCA Exam?
It takes a lot of studying and some practical experience. But at the very least you should take our exam prep course to give you confidence on the NSCA exam. It can save you the wasted time and money of having to retake the NSCA test.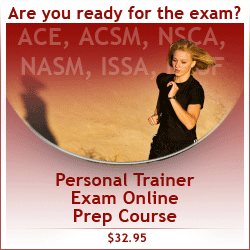 What's it going to take?
First off, you must be 18 years old and have a high school diploma or equivalent, adult CPR and AED certification with a practical component. While you don't need any University experience, good knowledge of bio mechanical concepts, training adaptations, anatomy, exercise physiology, program design guidelines and current position papers pertaining to special populations is recommended.
NSCA Exam Cost
The exam and membership fee will cost about $400 but you can save a little if you are already a member. And the fee to retake the exam (plan on having to do this at least once) is $185-$235 depending on the exam format and even more if you are not a member. You should also budget about $300 for training materials and six months of study time if you don't have any of the prerequisite knowledge.
You should also take the personal trainer certification NSCA practice exam available from the NSCA. It is another good diagnostic tool for determining which areas you need to focus on.

What do you think about the NSCA certification?
Here's your chance to have your say about the NSCA personal trainer certification. Ask a question, submit a comment, or even rant or rave about NSCA.
NSCA Certification Insider Tips
Get tips about the NSCA certification from people who have gone through the program. Click on each tip to read and rate the comments submitted by our readers.
NSCA CSCS Discussions

I am an aspiring personal trainer. I have a degree in kinesiology and I don't know which to choose. CSCS, while it sounds the most prestigious, also …
NSCA CPT Certification Reviews

I have to give kudos to the NSCA (National Strength and Conditioning Association). They really make sure you know your stuff in the field. They educated …
NSCA - TSAC-F Certificate Not rated yet
A friend told me about the Tatical Strength and Conditioning Facilitator (TSAC-F) Certificate put on by National Strength and Conditioning Association. …
---
Next Page: NSCA Vital Statistics
Education Providers: List of Accredited Personal Training Schools

School Index by State: AZ - CA - CO - CT - FL - GA - IL - MA - MI - MN - MO - NJ - NY - OH - OR - PA - TX - UT - VA - WA

Certification Reviews: ACE - ACTION - AFAA - ACSM - NSCA - NASM - NPTI - NCSF - NESTA - IFPA - ISSA - CanFitPro - NFPT - Cooper - NATA

Exam Preparation: Take our Certification Exam Prep Course
Navigation Guide: Home Page / Step 2 Index / Personal Trainer Certification NSCA