Personal Trainer Certification Utah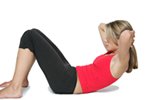 There are several good personal training programs available for people in Utah. You can choose from weekend workshops and full bachelor degrees. And the availability of online certification programs widens your options further.

If you have decided that you are going to start your career as a personal trainer, the first thing you need to do is get educated. While many organizations will try to sell you on a weekend workshop, we all know that you will need a lot more knowledge and experience to bring real value to your future clients.

So how do you get that real practical knowledge and experience? The answer is to get educated. And you have several options if you are interested in personal trainer certification in Utah.

If you have the time and resources to do it right, you just can't beat the bachelor's degree option available through Utah College. If the idea of starting a bachelor's degree seems daunting, you may want to consider their Associate's degree program. Once you earn the Associates degree, you can take a break, or continue on to pursue the full bachelor's degree. It is a nice middle of the road option. The best thing about these programs is you get a lot of hands on experience which means that when you hit the workforce, you will be ready. And remember, there is nothing stopping you from working as a personal trainer while you complete your studies. In fact, it is a good way to support yourself but also help you understand what you are learning in the classroom and your labs.

Another option for Utah personal trainer certification is the several online programs available. These programs are gaining in popularity and acceptance as the internet becomes a viable way for people to learn. The live courses (not just watching videos or DVDs) give you real time access to instructors yet the flexibility to keep your day job.

Below are your choice for personal trainer certification in Utah :
---
| School: | Utah Career College |
| --- | --- |
| Program: | Health and Exercise Science Degrees: Associate in Applied Science Degree - 8 quarters or Bachelor of Science Degree - 15 quarters |
| Locations: | Utah locations: West Jordan, Layton |
| Description: | Through practical application, lecture, and industry experience, students will become proficient in areas such as exercise program design, individual and group fitness, nutrition, sport-specific training, injury prevention, as well as management and marketing in the health and exercise industry. Graduates will be prepared to work with a variety of clients in multiple settings such as health clubs, wellness centers, recreation departments, equipment and supplement providers, clinics, schools, and rehabilitation centers. They will possess the requisite skills to work with the general population, plus will also be qualified to work with people who possess special exercise/wellness needs. (Get Free Info Pack) |
---
Online Personal Trainer Certification Courses

You can take these online certification courses from anywhere. So if you are not near a city that has a personal training school, this is a good option.
| School: | |
| --- | --- |
| Program: | Certified Personal Trainer |
| Locations: | Online Course |
| Description: | ACTION Certification is making a bold statement by offering FREE Personal Trainer Certification. You can download their 300 page textbook, study and take the exam, all without paying them a cent. But most people will benefit from their package of extras they offer for $65 which includes unlimited online training classes, practice exams, instructor email support and more. (Read our ACTION Certification Review) (ACTION Web Site) |
---
| School: | |
| --- | --- |
| Program: | Personal Trainer Diploma |
| Locations: | Online Course |
| Description: | Another online personal training course that allows you to self study at your own pace. All exams are taken online and the curriculum uses a mixture of audio and video programs to compliment the textbook. The overall program including materials and exams is available for around $900 making it an economical choice and a quick way to get started in the industry. (Receive More Information) |
---
Navigation Guide: Home Page / Personal Trainer Certification Utah