Personal Trainer Certification Canada
CanFitPro is a very popular personal trainer certification in Canada. So if you are Canadian, you definitely want to learn about the CanFitPro certification. But if you are not from Canada then you should skip over this one.
The CanFitPro Deal
If you are shopping for a personal certification in Canada then you will want to take a look at the CanFitPro Personal Trainer Specialist (PTS) certification. First off, its cheap. You can take an Online Course, In-class Course, get the Course Manual, Study Guide and Exam for $493(Non-members) or $434(Members). There is also early discounts if registration is received three weeks prior to the scheduled start date of the event . That is at the low end of the costs of the major certification programs available in the United States.
Secondly, you can get your CanFitPro certification in about six weeks even if you don't have a background in exercise science or fitness training experience. This is significantly faster than the major certification programs.
And Lastly, CanFitPro is probably the most widely recognized personal trainer certification in Canada. If you plan to train in Canada, this is all you need. If you are going to train internationally, you should consider one of the international certification programs.
And the Downside...
Because you can go from zero to certified in just six weeks with little practical experience, some view the CanFitPro as a lightweight certification. CanFitPro has added the practical portion of the examination to ensure that trainers can actually train clients before getting certified.
But is six weeks training enough for your new career? The answer of course is no! You are going to want to continue to study and develop your skills in anatomy, exercise and nutrition to make you a better personal trainer.
Advanced Certifications
Once you are certified with CanFitPro you can quickly start working and still be able to pursue other certifications. It is not uncommon for trainers to also pick up a certification through ACSM or NSCA. This helps build credibility especially since those programs are certified by the NCCA.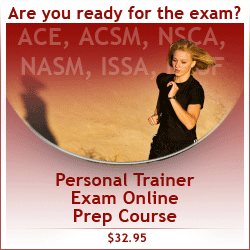 While the CanFitPro Personal Trainer Specialist can train healthy adults, the program does not cover special needs clients. To fill this gap, CanFitPro also offers an Advanced Personal Trainer Specialist (ADV-PTS) certification.
The Advanced Personal Trainer course is delivered via online distance learning with the exception of a one day workshop to cover the practical aspects.
The CanFitPro Exam
There is nothing special about the PTS multiple choice exam. It has a case study portion similar to other cert programs. But CanFitPro adds a practical examination. This portion of the exam is taken separately and must be completed within six months of taking the written exam.
Basically, the practical portion is a 60 minute personal training session with an actual client where you are observed by an instructor. This usually causes a lot of anxiety for people but if you study your materials and practice your training on friends and family, you will be able to overcome your fears and pass the exam.

What do you think about Can-Fit-Pro certification?
Here's your chance to have your say about the Can-Fit-Pro personal trainer certification. Ask a question, submit a comment, or even rant or rave about Can-Fit-Pro.
Can-Fit-Pro Certification Discussion
Getting feedback about the Can-Fit-Pro personal trainer certification from people who have gone through the program is valuable. Click on each tip to read and rate the comments submitted by our readers.
Next Page: CanFitPro Vital Statistics
Education Providers: List of Accredited Personal Training Schools

School Index by State: AZ - CA - CO - CT - FL - GA - IL - MA - MI - MN - MO - NJ - NY - OH - OR - PA - TX - UT - VA - WA

Certification Reviews: ACE - ACTION - AFAA - ACSM - NSCA - NASM - NPTI - NCSF - NESTA - IFPA - ISSA - CanFitPro - NFPT - Cooper - NATA

Exam Preparation: Take our Certification Exam Prep Course
Navigation Guide: Home Page / Step 2 Index / Personal Trainer Certification Canada