ISSA Certification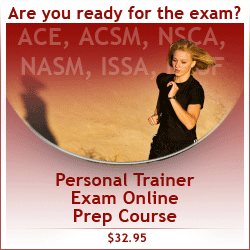 This page has all the vital statistics for the ISSA Certification. ISSA is the International Sports Sciences Association and offer the ISSA Personal Trainer certification.
You can read our full review of the ISSA certification here.
The ISSA certification is unique because it lets you take the exam online making it the only 100% online certification option. This is an important feature for people who may not be able to take the time or spend the money to travel to a testing location. Its no fun driving hours to the nearest testing locations and then not passing the exam.
The ISSA certification exam can also be retaken once for free and additional times for a $50 fee. If you have no personal training experience and are short on cash, this is important. Other certification programs charge up to $185 for an exam retest.
Training experience is helpful but not absolutely necessary for the ISSA personal trainer certification. And if you are studying for the ISSA exam, take our Exam Prep Course.
Vital Statistics: ISSA Certification
ISSA Certification
ISSA
Certification
Certified Fitness Trainer (CFT)
Established
1988
Workshop length
2 days
Workshop Availability
US major cities
Program Cost
$754
Materials cost
Included
Industry recognition
Med-High
Accreditations
DETC
Prerequisites
High School Diploma, 18 years old, Adult CPR/AED Certificate
Exam Questions
168
Exam Time
Exam Cost
Included
Retest Cost
one free online, $149 at seminar, ($50 charge for each additional attempt)
Exam deadline
2 years
Exam locations
Online plus Major U.S. cities
Time to Complete (Approx.)
13-16 weeks
Recertification
every 2 years
Recertification Cost (Approx.)
$600 (20 CEU and $75 fee)

Are you Interested in
Becoming a Personal Trainer?
Get Free Email Advice!
Next Page: Can Fit Pro Certification Review
Education Providers: List of Accredited Personal Training Schools

School Index by State: AZ - CA - CO - CT - FL - GA - IL - MA - MI - MN - MO - NJ - NY - OH - OR - PA - TX - UT - VA - WA

Certification Reviews: ACE - ACTION - AFAA - ACSM - NSCA - NASM - NPTI - NCSF - NESTA - IFPA - ISSA - CanFitPro - NFPT - Cooper - NATA

Exam Preparation: Take our Certification Exam Prep Course
Navigation Guide: Home Page / Step 2 Index / ISSA Certification