"Retiring baby boomers and the increase in child obesity is boosting demand for personal trainers." (

about me

)



Personal Trainer Job Outlook
Updated: January 2022

Before jumping into a new personal training career, you probably want to know what the job outlook looks like for this industry?
The salary projections might look good, but this isn't worth much if the personal training job market is saturated. So let's take a look at what is happening in the market right now.
Unexpected Rise in Demand
There is high demand for personal trainers these days. People are beginning to see the benefits of personal training. They understand that it is not just for the rich and famous anymore. As a result, the demand is increasing, which explains why the personal trainer job market is a great one right now.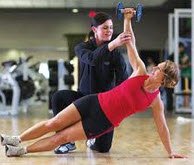 It is expected that the personal training industry will grow by fifty percent within the next ten years. This is a figure that was forecasted by the United States Department of Labor. As you can see, the personal trainer job outlook is very bright. For many trainers, they are getting jobs the moment that they receive certification. There are even some that are getting hired just because they are expected to receive certification in the future.
As more and more trainers are in demand, the personal training industry is constantly changing. These days there are more ways to get jobs than the traditional true and tried methods of years gone by. The following are just some of the additional ways and places where personal trainer jobs are in demand:
In order to reduce their health insurance premiums, companies are setting up their own employee health plans.
Personal trainers can be found in non traditional setting such as parks, beaches and natural trails.
Trainers have begun to team up with health related places such as rehab centers.
Personal trainers can be found in boot camps.
Exercise is being offered as a part of vacation packages, which offer personal training as a way to relax and unwind.
These are all ways in which personal training is getting more exposure in everyday life. As a result, the personal trainer job outlook continues to look attractive.
The Impact of an Older Society
It is no secret that people are living longer. What was once viewed as a way to stop working and slow down, retirement is now seen as a way to enjoy life and live longer. Elderly people are no longer just sitting on the sofa waiting to die. They are active and living life to its fullest. They are laying down the groundwork for a huge portion of today's society, which are the Baby Boomers.
Are you Interested in
Becoming a Personal Trainer?
Get Free Email Advice!
Kipling reports show that medical jobs are also in demand because of our aging population. Not only will the elderly population want to use traditional forms of medicine, but they will also seek out alternative forms of medicine such as exercise to stay fit and medically sound.
It is believed that the demand for both personal trainers and health club employees will be on the rise.
The personal trainer job outlook is strong because the elderly want to stay healthy, know what to expect from personal training, have the money to spend and do not have a lot of time to sit around and think about life. They want to experience it!
Things will not be the same within the next ten years or so. When the Baby Boomers go into retirement, they will have plenty of money and will employ those who can teach them how to exercise and retain their good health. If you are a personal trainer, be wise and target this huge population and offer your services.
However, keep one thing in mind. This group of people might be elderly, but they are also very smart. Most will not be interested in your services if you are not certified and are not trained to specifically handle the needs of the elderly.
by Katie Donnelly

Next Page: How Much Will it Cost Me?
Insider Tips
I am already working with many baby boomers and they definitely have a more pro-fitness attitude than some of my "senior" clients. I agree, the personal trainer job outlook looks very good for this group. The current seniors don't have the awareness of personal training. You have to go to senior centers and give free classes just to educate them on the services you offer. I don't have many one on one clients, but it is easy to get seniors together for group training. It costs them less and its really a social activity for them. Sometimes they are more interested in talking than working out.
- Cindy, Rancho Bernardo CA
Next Page: How Much Will it Cost Me?
Navigation Guide: Home Page / Step 1 Index / Personal Trainer Job Outlook