"Many trainers and clients want to skip this step and start training right away. This is a foolish move and can lead to injuries for your clients and legal liability for you." (

about me

)



Free Introductory Interview with a Personal Trainer
If you are looking for a personal trainer, see our personal trainer directory.
The introductory interview with a personal trainer is a critical factor in determining the success of your business. If you do things right, you will gain many clients. But if you are sloppy or inattentive, you will quickly get frustrated as you give away free consultations that lead to nothing.
Why Free?
Its quite simple really. Unless you are a superstar celebrity trainer, people are going to want to get to know you before training with you.
And as we will soon see, the introductory interview with a personal trainer is about setting expectations, administrative tasks, and legal forms. I don't know anybody that would want to pay money to fill out endless forms. So yes, provide this free consultation to your qualified prospects or use our Complete Training System for Personal Trainers to enable the client to complete most paperwork in advance securely on the web.
Many trainers and clients want to skip this step and start training. This is a foolish move because all of the forms we will talk about are critical, you need to understand what your client's goals are in order to design an effective program, and you can easily injure a client if you don't understand their medical history.
Preparation
From the client's perspective, the introductory interview with a personal trainer should be efficient and thorough. You can achieve this by being organized in advance. Start by reviewing your notes from the initial contact you had. It is a big turnoff if you don't remember that your prospect told you about an injury or a specific goal. But it is also a confidence booster if you ask your prospect about these things. It demonstrates that you are professional and that you care about their needs.
If you are not using our Complete Training System, you should also have all of the necessary forms ready to go ina binder. If you are disorganized client's will begin to doubt your training abilities.
We will go over each one of these in detail on the next few pages.

You won't need all of these forms during the introductory interview with a personal trainer, but I like to show the prospect the types of information that I record during their workout sessions. It helps build the "perceived value" of personal training services. I also include a brochure, business cards, my resume, and copies of my certifications.
The Session
During the consultation you will need to gather all the information you need to safely design an effective training program. So remember to ask a lot of questions especially about medical history and past injuries.
Sometimes clients will mark a form saying they have no back pain but when you probe further they might complain of soreness when they get out of bed. Knee pain is also an area to probe carefully.
As you proceed with the consultation, try to make it fun by joking, telling stories and smiling. Filling out paperwork is a dull activity so try to liven it up by showing some personality. The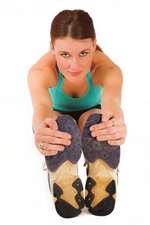 sooner you bond with your future-client the better. But always stay professional and never talk about other client's personal lives or habits.
Finally a classic mistake made during the interview with a personal trainer is to talk too much. I know you are excited about all the great exercises you can recommend for the client. Remember that your client just wants to know that she will be able to lose those 15 pounds or add upper body muscle. They don't need to know all the details of how its going to be done.
Instead, say something like "I have a lot of fun ways to <<insert goal here>> by focusing on <<short description of exercises>>. The introductory consultation is boring enough without having to hear your trainer ramble on about exercise theory.

Next Page: Agreement Form - Policies and Procedures
Insider Tips
Always be on time and make sure you look nice. Nobody wants to spend 45 minutes talking to a sweaty person.
- Linda, Columbus OH
Next Page: Agreement Form - Policies and Procedures
Navigation Guide: Home Page / Step 4 Index / Interview with a Personal Trainer