Personal Training Legal Issues
Starting your own personal training business can be scary. But now you can get your legal questions answered for FREE by an expert Fitness Attorney.
As personal trainers we have the opportunity to specialize in a lot of different niches like training seniors, the disabled, athletes and youths. Our clients benefit from our specialized knowledge in these areas.
The same concept holds true in the legal profession. It doesn't make sense to get generic legal advice from somebody that doesn't understand the unique aspects of the fitness industry. You end up paying your lawyer to learn the unique nature of our industry. Fortunately, more attorneys are starting to specialize in fitness law.
And we are lucky enough to have a Fitness Attorney with tons of fitness experience to help answer your questions!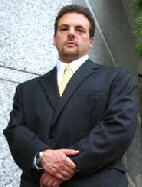 Charles Weller


Meet Charles Weller. Charles has helped form many fitness businesses, negotiated business leases for fitness companies, and helps protect the assets and intellectual property of fitness professionals.
You can ask Charles a question below. There is no obligation and he will answer for free. But complicated issues will ultimately require the paid assistance of an experienced fitness attorney. We recommend supporting Charles Weller by sending your legal business to him.
But First... the Disclaimer
The materials available at this web site are for informational purposes only and not for the purpose of providing legal advice. You should contact your attorney to obtain advice with respect to any particular issue or problem. Use of and access to this Web site or any of the links contained within the site do not create an attorney-client relationship between this site and the user or browser. The opinions expressed at or through this site are the opinions of the individual author and may not reflect the opinions of the firm or any individual attorney.
What does a Fitness Lawyer do?
Here are some of the common personal training legal issues that a fitness attorney can assist with.
Establishing the best business entity (Sole Proprietor, LLC, S-Corp etc.)
Review or create business documents like waivers, consent forms, membership contracts, billing agreements and customer agreements.
Negotiate lease terms potentially saving you thousands of dollars per year.
Resolve disputes before they turn into an expensive and time-consuming lawsuit.
Represent your interests if you are sued. It is not enough to be "right" these days. You need somebody that can prove you are not liable.
Protection your intellectual property. Make sure your trademarks are protected against infringement. More importantly, make sure you are not infringing on someone else's trademark which could subject you to lawsuits, large fines, and even changing business names/slogans.
Help you expand or sell your personal training business.
Assist you with your other related fitness professional endeavors.
Do You have a Personal Training Legal Question?
You can ask your personal trainer legal questions below.
Personal Training Legal FAQ
Check out the archive of legal questions and answers below. Chances are you may have a similar issue when setting up your personal training business.
Next Page: Business Software
Navigation Guide: Home Page / Step 4 Index / Personal Training Legal Issues