NESTA Personal Trainer Certification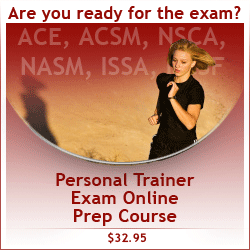 Here are all the details and vital statistics for the NESTA Personal Trainer Certification.
Note: NESTA has replaced the CPT certification with the PFT certification (personal fitness trainer). Our review of the NESTA PFT certification is now available.
The NESTA Personal Trainer certification will help you get a job with 24 hour fitness, Bally's, Gold's and other gyms. The course is home study based with a proctored exam. While NESTA is not yet considered to be one of the major certification programs, it is growing rapidly and being recognized more widely throughout the industry.
Read our full review of the NESTA Certification here.
Vital Statistics: NESTA Personal Trainer Certification
NESTA Personal Trainer Certification
NESTA
Certification
Certified Personal Trainer (CPT)
Established
Workshop length
2 days
Workshop Availability
NYC, LA
Program Cost
$199
Materials cost
$200
Industry recognition
Low-Med
NCCA accredited
No
Prerequisites
almost none
Exam Questions
120
Exam Time
2 hours
Exam Cost
$100
Retest Cost
$75
Exam deadline
90 days
Exam locations
Major US Cities
Time to Complete (Approx.)
1-3 months
Recertification
every 4 years
Recertification Cost (Approx.)
$600
The NESTA Personal Trainer Certification Exam consists of 125 multiple choice questions taken over two hours. Passing score is 70% or higher. The exam must be taken within 90 days of program purchase.
The exam covers topics including Introduction to Personal Training, Exercise Physiology, Kinesiology and Functional Anatomy, Applied Biomechanics, Flexibility, Nutrition, Special Populations, Assessments, Program Design, Exercise Application, Safety, Injury Prevention and Treatment, and Business Applications for the Personal Trainer.

Next Page: IFPA Certification
Education Providers: List of Accredited Personal Training Schools

School Index by State: AZ - CA - CO - CT - FL - GA - IL - MA - MI - MN - MO - NJ - NY - OH - OR - PA - TX - UT - VA - WA

Certification Reviews: ACE - ACTION - AFAA - ACSM - NSCA - NASM - NPTI - NCSF - NESTA - IFPA - ISSA - CanFitPro - NFPT - Cooper - NATA

Exam Preparation: Take our Certification Exam Prep Course
Navigation Guide: Home Page / Step 2 Index / NESTA Personal Trainer Certification