"NESTA is very popular because it is easy to get. Check if health clubs in your area accept NESTA certifications for their trainers." (

about me

)



NESTA Personal Training
Note: NESTA has replaced the CPT certification with the PFT certification (personal fitness trainer). Our review of the NESTA PFT certification is now available.
The NESTA personal training certification is offered by the National Exercise and Sports Trainers Association. While the NESTA certifications are not as recognized as some of the bigger players, they are easy to get and will help you get your first job. See what other people are saying about NESTA certification.
Which NESTA Personal Training Certification?
That's a good question...and if you don't read closely you can get them confused.
1) The NESTA Certified Personal Fitness Trainer (PFT) is for beginning personal trainers who want to work in a health club environment.
2) The NESTA Certified Personal Trainer (CPT) is for beginning personal trainers who want to have their own personal training business.
You can compare NESTA Certifications against other Personal Trainer Certifications using our Certification comparison table.



The NESTA personal training approach depends heavily on DVD training and CD Audio resources. There is no textbook! Now before you start rejoicing too much, you should consider that watching TV and then taking an exam is considered by some to be little more than a test of your TV comprehension.
And the fact that NESTA says to allow only 30-60 hours of study time confirms that this is not a heavyweight certification (they only give you 90 days to take the exam).
I believe this is a key factor to why NESTA hasn't broken through to join the more established certifications. NESTA is currently working on getting their program certified by NCCA.
Who can take the exams?
Just about anybody. NESTA does NOT require you to be 18 years old or hold a CPR certification. You can even take one of the advanced courses without passing the beginner level NESTA personal training certification.
Tell me about the NESTA Exam
The NESTA personal training exam consists of 120 questions which must be completed within two hours. While you can skip the materials and just take the exam for $149, that's probably not a wise idea. Exam retests are $75. The exam is administered at Thomson Prometric testing centers which are widely available in U.S. and Canada.
To avoid wasted time and money retaking the exam, you should take our Exam Review Course. With over 750 practice questions for only $32.95, it is a wise investment to make sure you are ready to pass the NESTA exam.
What does the NESTA personal training program cost?
There are several levels to choose from but most people will choose either the $299 option or the $359 professional option that includes some extra materials on starting your business (most of which you can already have access to on this site for FREE!).
Recertification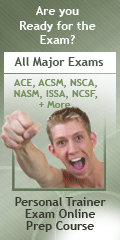 And of course NESTA personal training requires recertification. In this case 40 CEC's every four years. And CEC's must be from their course offerings. So plan on spending several hundred dollars every few years just to keep your certification current.
Other Courses Offered: NESTA personal trainer, yoga, Pilates certifications
By combining the various courses that NESTA offers you can create a custom certification (unofficially). For example, combine the certified personal trainer with a yoga and Pilates certification to get: NESTA personal trainer yoga pilates certification.
What do you think about the NESTA certification?
Here's your chance to have your say about the NESTA personal trainer certification. Ask a question, submit a comment, or even rant or rave about NESTA.
NESTA Certification Insider Tips
Getting feedback about NESTA certification from people who have gone through the program is valuable. Click on each tip to read and rate the comments submitted by our readers.
NESTA Exam Tips

I'm booked in to take the exam at the end of the month. I got a big text book to learn and not just the videos. I thought if you can learn it all from …
NESTA PFT Certification Reviews

Do you know anything about the personal trainer certification from NESTA (National Exercise & Sports Training Association)? This organization offers a …
Passed NESTA PFT 2.0 this morning Not rated yet
I passed this exam literally a couple hours ago with 90% out of 125 questions. You should really focus on the 3rd,8th and 9-13 chapters (as others have …
---

Next Page: NESTA Vital Statistics
Education Providers: List of Accredited Personal Training Schools

School Index by State: AZ - CA - CO - CT - FL - GA - IL - MA - MI - MN - MO - NJ - NY - OH - OR - PA - TX - UT - VA - WA

Certification Reviews: ACE - ACTION - AFAA - ACSM - NSCA - NASM - NPTI - NCSF - NESTA - IFPA - ISSA - CanFitPro - NFPT - Cooper - NATA

Exam Preparation: Take our Certification Exam Prep Course
Navigation Guide: Home Page / Step 2 Index / NESTA Personal Training