"Did you know that we offer free email support for people who are interested in becoming personal trainers? Just

tell us a about yourself

so we can guide you through the process. " (

about me

)



Personal Training Accreditation
The number of organizations offering personal training accreditation is mind boggling.

Welcome to Step 2 of Starting a Personal Training Business! If you are here, you have completed the self-evaluation in Step 1 and are moving forward toward launching your new personal training career.




Step 2 deals with the topic of Personal Trainer Certification in detail. Choosing the proper certification program can mean the difference between success and failure on your journey to become a personal trainer. So study this section carefully to make an informed choice.

How do you tell the good personal training certification schools from the bad ones?
You need to do your research. The best way is to talk to the people who have been through the programs. But you will often find that trainers really only have experience with the program they attended. They will recommend a program based upon what worked for them but it could be inappropriate for your career goals.
To reduce this bias, I have created a web page for each of the major organizations offering personal trainer accredidation. You can review highlights of each program along with tips and reviews submitted by our readers.
And if you have been through a program, make sure you submit a tip to help somebody else who is considering personal trainer accredidation.
Step 2 Index
The Importance of Getting Certified
Avoid the Rip-Off Artists
Personal Training Degrees

Reviews of Certification Programs
ACE Personal Trainer Certification
ACE Vital Statistics
ACE Certification Exam Tips
ACTION Certification Review
AFAA Personal Trainer Certification
ACSM Personal Trainer Certification
ACSM Vital Statistics
ACSM Certification Exam Tips
NSCA Personal Trainer Certification
NSCA Vital Statistics
NSCA Certification Exam Tips
NASM Personal Trainer Certification
NASM Certification Exam Tips
NPTI Personal Trainer Certification Review
NPTI Vital Statistics
NCSF Certification Review
NCSF Exam and Vital Statistics
NESTA Personal Trainer Certification
ISSA Personal Trainer Certification
ISSA Vital Statistics
CanFitPro Personal Trainer Certification
CanFitPro Vital Statistics
NFPT Certification Review
IFPA Certification Review
Cooper Certification Review
NATA Certification Review

Online Personal Training Certification Courses
Is Online Certification Right for You?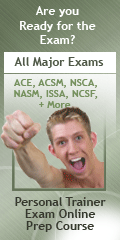 Certification Program Comparison Tables
Full Certification Comparison Table
NCCA Accredited Programs only
Non-NCCA Accredited only
Online Certification Programs only

Reader Recommendations

Free Personal Training Practice Certification Exam
Client Assessment
Exercise Technique
Client Program Design
Nutrition
Miscellaneous
Practical Analysis
Answer Page

Take our Certification Exam Prep Course
Cert Exam Prep Course
Take a Sample Personal Training Test

Certification Study Groups
Combining Multiple Certifications
National Personal Trainer Certification
Free Personal Trainer Certification


Insider Tips

I totally believe that obtaining my personal training accredidation is worth it. You can accept as few or as many clients as you like in a day and still have time to do other things. The certification class also comes with some really good course books and materials that you can't get at your local book seller. I took a 12 week course that cost around 300 dollars. The class met twice a week for the duration. It was totally worth it.
- LLoyd, NY
Next Page: Avoid the Rip-Off Artists
Navigation Guide: Home Page / Personal Training Accredidation