Personal Trainer Certification Online AFAA
Note: A newer version of this review is available here.
Getting a personal trainer certification online from AFAA (Aerobics and Fitness Association of America) is one of the unique ways the Internet is changing the fitness industry. New technology is making is easier to learn and prove your knowledge.
So What is it?
The personal trainer certification online from AFAA is a self-study course available through the Internet.
The online activities complement the readings from the textbook. And there is even a practice certification test to help prepare for the certification exam and the Board certification.
The AFAA personal training course will cost you $149 plus the required $59 textbook. You can compare the AFAA Certification with other popular certifications using our comparison table.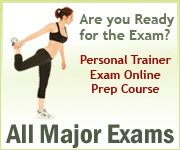 Read the Fine Print!
While the personal trainer certification online from AFAA sounds good, there are some pitfalls. Taking the online course does not guarantee you will pass the test. In fact, if your only experience is the online course then you will find the exam very challenging. I have heard from many people who have struggled with certification exams because they lack the practical side of things. If you go the 100% online certification approach, at the very least you should plan to shadow a personal trainer (see Step 3), but you should also take our exam prep course to ensure that you pass the AFAA test on the first try. Nothing is more frustrating than wasting time and money by failing your AFAA exam.
Secondly, this type of self study online training doesn't work for everybody. If the idea of reading textbooks and staring at the computer screen doesn't suit your learning style, then consider another approach to getting certified.
What are the Alternatives?
If the personal trainer certification online from AFAA doesn't sound like a good match for you, then consider one of their 3 day personal trainer certification workshops. At $469 plus the $59 textbook, this option isn't cheap. But if you learn better by doing and seeing then this may be worth it to you.
I've got to warn you though. Be prepared for three very long days. And once again, attending the workshop won't guarantee you certification, but many trainers pass the test at the end of the workshops.
Workshops are available at various locations. However, if you are in a remote location the personal trainer certification online AFAA may be a better option.

Scroll down for Insider Tips on AFAA certifications.
What do you think about the AFAA certification?
While our review of the AFAA certification isn't very glowing, this is your opportunity to share your first hand experience with this cert. Did we get it wrong?
AFAA Certification Insider Tips
Getting feedback about the AFAA from people who have gone through the program is valuable. Click on each tip to read and rate the comments submitted by our readers.
---

Education Providers: List of Accredited Personal Training Schools

School Index by State: AZ - CA - CO - CT - FL - GA - IL - MA - MI - MN - MO - NJ - NY - OH - OR - PA - TX - UT - VA - WA

Certification Reviews: ACE - ACTION - AFAA - ACSM - NSCA - NASM - NPTI - NCSF - NESTA - IFPA - ISSA - CanFitPro - NFPT - Cooper - NATA

Exam Preparation: Take our Certification Exam Prep Course
Navigation Guide: Home Page / Step 2 Index / Personal Trainer Certification Online AFAA